FAQ's

THIS ALL SEEMS COMPLICATED, WHY WOULD I WANT TO USE IT?
BreezyLog was developed to cater for every type of aircraft owner/operator and to make it as easy as possible for them to manage their logbook and maintenance schedules. It's only as complicated as you choose to make it and at the very least, all you need do is enter flight details and book your aircraft in for maintenance when you see it's coming due, and let the BreezyLog application and your LAME (if you've given him access to your aircraft on BreezyLog) manage the rest. Though Version 1 is relatively basic, we are already planning Version 2, which will have many extra features, such as Pilot Flight Logs, Parts Locker for maintenance organisations, along with FAA Airworthiness Directives and applicability for the US market. Though don't think that will mean dramatic increases in pricing. It is our primary goal to keep BreezyLog as low-priced and affordable for the small aircraft owner/operator as we can possibly make it. If you have suggestions for features you would like to see added, please let us know.
IS BREEZYLOG AVAILABLE FOR MY COUNTRY?
At this stage, Breezylog is only available in Australia. But keep posted, we're working on versions for the US and European markets.
DOES CASA ALLOW THE USE OF BREEZYLOG?
We have been working with the Civil Aviation Safety Authority during development, to ensure that BreezyLog meets the requirements of CAR 50A and 50B as an alternate to Aircraft Logbooks.
DOES RAAUS ALLOW THE USE OF BREEZYLOG?
Yes, as of the 31st August 2018, BreezyLog can be used to meet the log book recording requirements of the RAAus Technical Manual 4.1
I'M AN OWNER/OPERATOR, HOW DO I GET MY AIRCRAFT ON BREEZYLOG?
Firstly, read our Introduction Booklet (see below). Then go to the Registration page using the link in the top menu and enter your contact details and the registration number/s for your aircraft. One of our representatives will then contact you, either by phone or email to discuss the process with you in greater depth.
HOW LONG WILL IT TAKE TO GET MY AIRCRAFT RECORDS ONTO BREEZYLOG?
The time it will take to load your aircraft onto BreezyLog will depend upon a number of factors such as;
How accurate and up to date your current logbooks are
How accurate and up to date your Logbook Statement Part 1 and 2 are
How accurate and up to date your Maintenance Schedule Tracking Sheet is
How accurate and up to date your Airworthiness Directive compliance list is
If you have the correct Part and Serial Number for each component that is linked to a Maintenance Schedule
How accurate and up to date your Component Log Cards are
WHAT'S WITH THE SETUP FEE & WHAT ABOUT TRANSFER OF OWNERSHIP?
We have put a great deal of thought into how to price BreezyLog, to ensure that it is affordable and can continue to grow and develop. We have plans to add many more features into future versions. There is a lot of work involved in setting your aircraft up on BreezyLog, including setting AD's and associated schedules, along with other lifed schedules, loading components into the locker, etc. However, the setup fee is a ONCE ONLY payment and if you were to sell your aircraft, it will be with the added value of being established on BreezyLog, with only a small fee for transfer of ownership and all the new owner has to do, is continue to pay the monthly subscription, with no contract of course.
DO YOU DISCOUNT/NEGOTIATE IF I HAVE MULTIPLE AIRCRAFT?
No we do not! We have set our prices at the rock bottom we can afford to provide this service and each aircraft is individually established on BreezyLog, involving many hours to build the logbook, schedules, parts locker, etc. For more details please read our Introduction Booklet.
WHY CAN'T I USE BREEZYLOG OFFLINE?
While we began with developing BreezyLog for offline use, it quickly became apparent, that due to the varying number of users that have potential access to each aircraft, i.e. LAMES and Pilots, we decided that the system must log and reflect live and up-date data, so as to minimize the risk of data corruption. We advise, that should you not have data access available, to write the information down and enter it as soon as possible upon internet data access becoming available, with the primary rule being, that you cannot perform a maintenance task until all flights have been logged.
AS A MAINTENANCE ORGANISATION OR INDIVIDUAL LAME, HOW WILL BREEZYLOG BENEFIT ME?
BreezyLog was developed for the Aircraft Owners/Operators, so they can easily meet their responsible for the safety and regulatory compliance of their aircraft and records. Our goal, is simplifying the maintenance responsibilities of aircraft ownership, to increase safety and ensure regulatory compliance.

It is an unfortunate fact that many aircraft owners/operators believe that maintaining their logbooks and managing maintenance schedules and airworthiness directives, is the responsibility of their LAME or AMO. CASA regulations and those of other regulatory bodies around the world, clearly define the responsibility for keeping accurate aircraft records and maintaining an aircraft in accordance with the regulations, lies squarely and fully upon the aircraft owner/operator.

Today's LAME or AMO will normally utilise one of many commercially available, electronic "Workshop" maintenance programs, which include functions such as maintenance tracking and forecasting, work-package and inventory control. These programs are designed to meet the requirements of the Maintenance Organisation and may not meet the requirements of CAR 50 with regards to the individual aircraft logbooks. The task of transcribing the data from the AMO Maintenance recording system to the Aircraft Logbooks is arduous and thus, it has become the norm that many LAME or AMO's will keep the owner's aircraft logbooks on site. More importantly, in our fast-paced computerised world, because the LAME or AMO utilises their maintenance forecasting system to maintain data on behalf of the owner/operator, a culture has developed where, if queried, most aircraft owners would not be able to provide details on upcoming maintenance beyond what is listed on their current maintenance release. Additionally, this usually means, that apart from their invoice from the LAME or AMO, the owner has no idea of what maintenance was previously carried out.

In some occasions, LAMEs or AMOs who invoice charges for updating logbooks or "Record Searches" are disputed by aircraft owners/operators who often "surrender" their logbook, which can be a pile of paper in a milk crate, over to the LAME to figure out everything that needs to be done, effectively "passing the buck" to their maintenance provider.

BreezyLog is absolutely free for LAMEs and your maintenance organisation can have all its licensed staff registered with no ongoing costs. Owners/Operators who embrace their responsibility and subscribe to BreezyLog can provide the LAME and AMO with access to their aircraft logbooks and maintenance schedules, at no extra expense to you.

When you have finished the maintenance and recorded it on your AMO program, a simple "Copy & Paste" into BreezyLog and the job is done. We even automatically populate the engine and propeller logbooks if required.

Say goodbye to the "Milk Crate", sticky lables and staples and reduce the amount of time it takes to determine what work needs to be done, from hours and days, to minutes.

We have many more features planned for Maintenance Organisations and LAMES, however Rome wasn't built in a day.
I'M A PILOT, HOW WILL BREEZYLOG BENEFIT ME?
An aircraft owner/operator provides pilots and LAMEs with an access code that enables them to access their aircraft. As a pilot, you can log your flights, view your flight history, raise a maintenance task and more. You can also use the web-based mobile app to record flight information, such as occupants, fuel and oil uplifts, in real time (data network access required). Registration is free for pilots.
WHY IS BREEZYLOG A WEB APP AND NOT IOS OR ANDROID?
The Tech world is all abuzz about apps and developing apps for tablets and mobiles. Yet how many times do you go to install an app, only to find you don't have the space for it? That's partly the reason why Breezylog is a web app, because you can run it on any Tablet or Mobile, regardless of it's operating system, just like any other, regular app, without having it take up valuable storage space. Besides, Breezylog requires a live data connection anyway.
HOW DO I INSTALL THE APP ON MY TABLET OR PHONE?
BreezyLog is a web-based, software as a service application, developed for use on all types of mobile operating systems. This means that it can be used on any type of computer, tablet or smartphone, whether it's Android, IOS, Windows, Blackberry, etc. To install it on your tablet, go to
https://my.breezylog.com
in your browser, or to install it on your phone, to
https://flight.breezylog.com
and add it to your home screen. This creates an icon on your home screen that will launch and run the app like any other app on your phone or tablet. You can find detailed instructions on how to do this on
How-To Geek
ARE FAA AIRWORTHINESS DIRECTIVES INCLUDED IN BREEZYLOG?
Not as yet, but we are already planning version 2, which will have many more features, including FAA airworthiness directives.
WHAT"S WITH THE CARTOON CHARACTERS?
The characters you see on our website, are part of the cast of characters in our upcoming animated series "The Breezy Life", which are short, light-hearted scenarios that show how BreezyLog can make everyone's life easier and are sure to get many aircraft owners/operators, LAMEs and Pilots nodding their heads, smiling and thinking to themselves, "I can relate to that."

For more details

read our Introduction Booklet (click to view/download)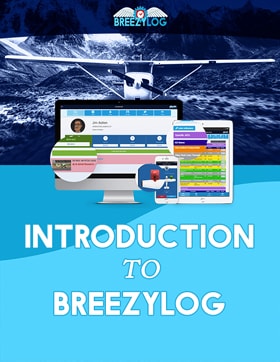 Introduction To BreezyLog